Totally Consumed! 8-Item LEADER Packet
Regular price
$42.99 USD
Sale price
$14.95 USD
Unit price
per
Sale
Sold out
---
Totally Consumed!
This powerful curriculum will greatly enhance worship as a daily lifestyle in your students' lives. They will learn many fresh insights into this phenomenon that is sweeping their generation.

Teaches students:
• What being a "living sacrifice" really means
• Why having a heart of worship toward God is crucial to a believer
• The importance of God's Word in worship
• The importance of private and corporate worship
• What true revival looks like

Session Titles

A Living Sacrifice

A Heart of Worship

Personal Worship

Corporate Worship

A Mighty Movement of God
My Quiet Time
My Quiet Time daily devotional guides are available in 13-week (quarterly) booklets. Special emphasis on illustration and application helps to make the message of the Bible come alive, and the easy-to-read style makes a daily quiet time more enjoyable for both teens and adults. Great for starting a daily quiet time.

 Note: Please specify My Quiet Time Series. 
Leader Pack Includes:
Totally Consumed! LEADER SET (Curriculum and Guide)

My Quiet Time Devotional Guide

Journal (Default is the Structured Journal; call 817-295-1000 to order Freestyle)

Scripture Memory Card Holder

Journal Cover - Choose from 14 Vinyl Single Color Journals (included) or 6 Premium Duotone Colors (small additional cost)

Discipleship Commitment Card

The Answer Tract
Note: Premium Duotone Colors add a small additional cost per Pack (reflected in total price).
Note: Perforated memory cards (NIV translation), one for each week, are located in the middle of each My Quiet Time guide.
Note: Single Devotionals (without Journal, Scripture Memory Card Holder, and Vinyl Journal Cover) available in a separate listing.

Note: Please specify My Quiet Time Series.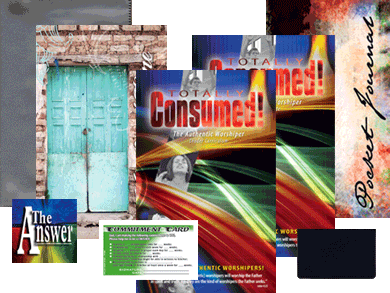 Totally Consumed! (Other Products)